Moki : A Headteacher's perspective
With mounting pressure on schools to become more accountable for student health and wellbeing, the ability to monitor physical activity levels is close to impossible. Moki was developed in schools as a solution to this problem. A system was needed that is robust, affordable and incredibly easy. Physical activity is not just a function of sports and PE and so Moki offers schools a complete picture allowing them to measure the impact of various initiatives and activities as well as identify those  less active students that may need extra support.
Water Primary School have been using Moki for some time now.  We spoke to the Headteacher, Chris Willan, to ask him how he finds Moki has impacted the children's (and teachers!) activity levels and what it is like using Moki everyday.  
Chris, has your school noticed increased activity levels in children using Moki?
Absolutely. As a school we are extremely passionate about health and wellbeing. We are a very active school and we put a large emphasis on encouraging children to be active both during school hours and outside of school hours. However since the introduction of Moki we have certainly seen the children respond with extra enthusiasm and engagement. The custom Challenges feature has been a brilliant way for us to set up some healthy competition between both pupils and staff. In a sense Moki has created a focal point for the school to think about our physical activity and keep it front of our mind. We have also been mindful of exerting extra pressure on children in terms of improving step counts. All competitions are completed with sensitivity and fun. The Moki bands have also been an invaluable link to our Science Curriculum. The children have used them to enhance their learning around the heart, activity and fitness.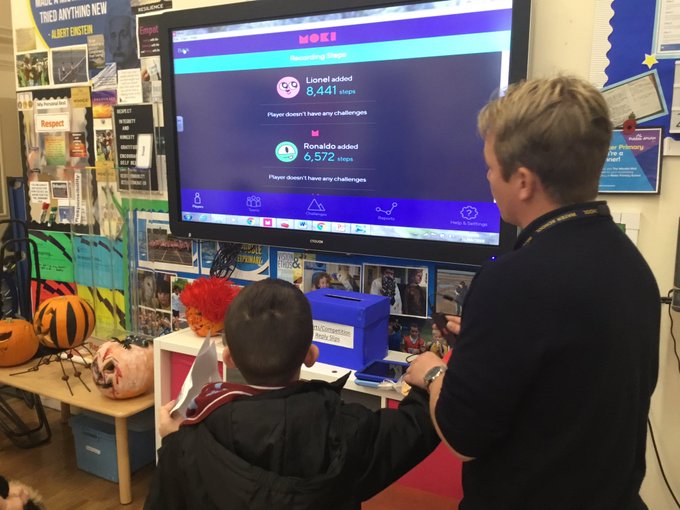 Can teachers and students use Moki?
Yes the Moki Bands are available in small and large sizes. Interestingly enough our first use of Moki was to run a staff step challenge over the course of a week and review the leaderboard in whole school assemblies. Staff well-being is extremely important to us and it was a great way to start discussions about making sure we didn't overlook our own well being and happiness. This also worked perfectly in terms of getting the kids excited and engaged, being role models  and also getting us used to using Moki ourselves ahead of getting the children involved. Needless to say we had some spirited efforts from our staff as they pursued the top spot!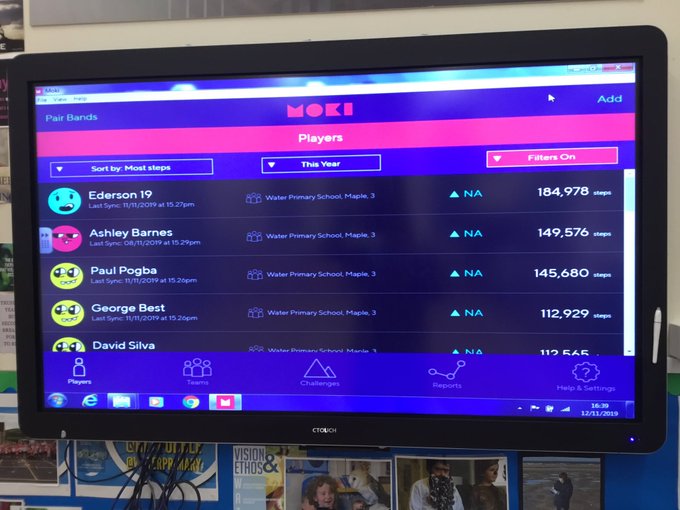 What kinds of activity challenges do you take part in whilst using Moki?
The Challenges feature in Moki is simple and flexible. You can create teams, targets and track progress so it's easy to get creative and think of different ways to frame it. Recently we ran a class challenge where students would choose their favourite sports personality and compete in a weekly step challenge as their role model. This led to some very entertaining moments as we watched the likes of Ronaldo, Paul Pogba and Lionel Messi jostling for position on the leaderboard!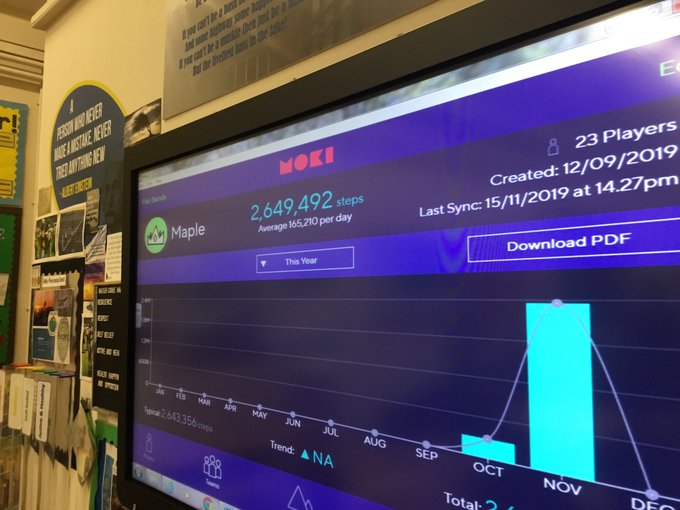 What makes Moki stand out compared to other pedometers or activity trackers?
The Moki Bands are simple and comfortable plus without any visual display they cause no disruption or distraction in class. But the biggest difference between Moki and other pedometers and trackers is the app. The Moki App is incredibly easy to use and allows us to quickly set up teams, create challenges and view reports. There are so many reporting and analytics tools out there that are confusing and complicated whereas Moki just gives you the useful data without any fuss.
You can read the full article in the December 2019 issue of Independent Education Today.
Contact Moki PR Team:
https://moki.technology/pages/contact/us
---